Why You Should Not Pause Digital Marketing Efforts Amid Virus
We as Americans have found ourselves in an unprecedented time in recent weeks. It seems more and more restrictions are being placed on businesses and the public each hour. Restaurants and bars closing, restricted business operating hours, and manufacturing plants closing their doors for weeks at a time.
At Guardian Owl Digital, we wake up eagerly each day to serve our clients by bringing integrity, honest communication, and innovative search engine solutions to the digital marketing landscape. Like many businesses, we've found ourselves overwhelmed by the surge of fear and uncertainty from our clients and community. Many businesses, due to the nature of some industries, are having to shut their doors indefinitely. While others are pivoting offerings and how they can best serve the needs of their clients during this time.
No matter the situation that individual clients are finding themselves in, there is one goal among all of them. Finding a way to keep their business thriving.
We feel that the best way to do that, is to keep your marketing efforts going. In the words of Henry Ford, "A man who stops advertising to save money is like a man who stops a clock to save time."
Here's why: When this is over (and it will end) things will be business as usual. Stopping your marketing efforts in the midst of something like this is a lot like deciding to give up your diet and exercise regime because you are stuck inside of your home. At Guardian Owl, we want our clients to emerge from this in better shape than how we went into the chaos.
Take a look at this graph from the 2008 recession provided by Derek Gleason. Now is the best time to pass your competition.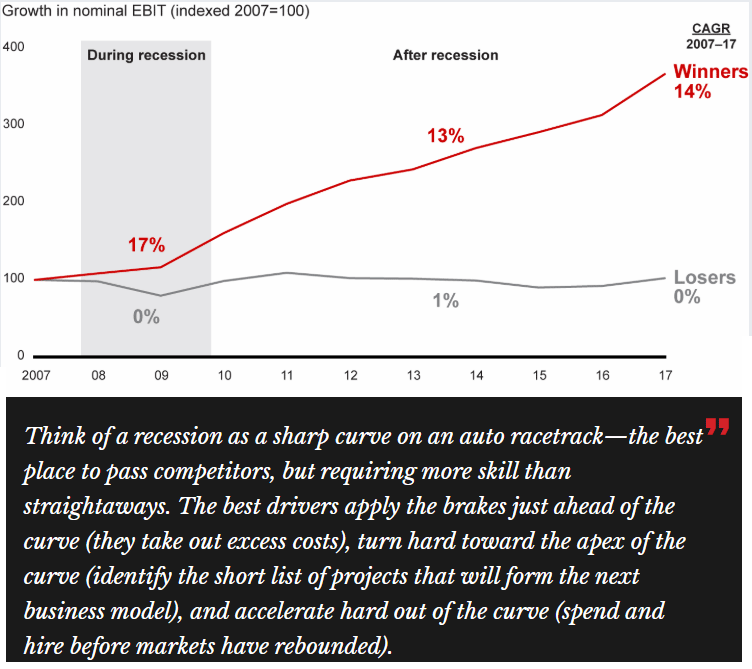 Here are 3 reasons to refrain from taking any drastic measures in your digital marketing during this time:
Those Google rankings that you have been fighting to achieve will drop like a lead balloon if you press the pause button. Any good SEO company will tell you that to achieve long term lasting results, at a minimum, a monthly maintenance place is in order.
Going dark on places like the social media platforms, Google My Business or even your blog, can be confusing for potential customers when it comes to figuring out if your business is "still open and credible."
You may never find out what your customers really wanted from your business to begin with. Through offering online ordering to virtual sales calls showcasing products, you may find that in these times, what are new offerings from your business might become new practices that make you more money than ever before.
Actions to take right now online:
Ask your digital marketing company what brainstorming they have been doing to help you to be as successful as possible during this time. Hopefully, you are a client of Guardian Owl, but if you aren't this should be the very first question that is asked.
Be open to different ideas and willing to pivot. If you had been resisting online ordering in the past, why not give it a try? Sometimes the ideas that you think will be the biggest fail end up being the most successful. Right now, people are looking for a chance to support their favorite local businesses however they can.
At a minimum we encourage you to continue posting on social media and Google My Business so that you can maintain your social presence during this time. Not sure how or have too many other things on your plate to add a new concept in the mix? No problem! We have a plan just for you, to help make this time easier.
Right now, we are offering social media and Google My Business management at a severely reduced rate to help small businesses stay visible during these times.
Digital Marketing Tip For Remote Facebook Lives