Drivers Between 25-54 Years Old
Why Start Waze Advertising

Waze launched their Local Advertising for Business's and Brands in 2018.  Since launching, Waze has collected alarming data that has resulted in less than a dollar per click & quality demographic reporting.
Guardian Owl Digital is helping our clients reimagine the relationship between
 their 

brandanddriverson the world's largest crowdsourced navigation app.
What Is Waze Advertising?
Waze is a popular navigation app owned by Google. It differs from Google Maps and other navigation applications by crowdsourcing traffic information.
With community-based reporting, others along your route (passengers, hopefully) can report an accident, stalled vehicle, construction, and more. From this information, Waze helps you find the fastest route to your destination.
The Waze app has a pretty impressive reach, too, with over 110 million active users.
Some important stats on the average Waze User:
Most users utilize Waze at least 2x a week
Average age of 25-55
Average user has 2-4 people in the home
Average household income of $75,000+
60% of Waze users use the app within 12 miles of home
Waze Advertising Opportunities
Waze Ad Investment – Minimum of $100 needed towards Waze Monthly Ad's.
Guardian Owl Digital Management- $50-500 a month dependent on locations
Waze Advertising is new and as we continue to be #honestindigital we will learn and update our clients invested in staying ahead of the curve in generating transparent partnerships.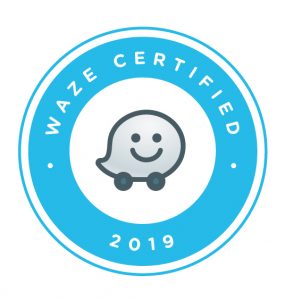 Get Started With Waze
Monthly Location management for as low as..
Minimum of $100 in Waze Ad Spend
Leaders Start First at Guardian Owl Digital
Leaders of Expert SEO agencies need to first be practitioners and invest the time in learning and understanding the tools they are advising business's on.  Our CEO, Jenna Ahern, continues to stay certified in order to best manage leaders within the organization, profitable outcomes for clients, and ultimately employee more practitioners for the advertising mediums that generate the most ROI for our Guardian Owl Clients.