Get Your Complimentary Website Score
Soar Higher Online
We've grown tired of watching businesses invest in SEO & Digital Marketing that isn't profitable. Guardian Owl Digital was created to bring integrity to digital transformation and help you stop wasting money on channels that aren't producing a return for your business. 
Our focused approach is centered around honest communication, innovative search engine solutions, and unrivaled customer service.

Search Engine Optimization
SEO is a long process and there's no silver bullet to the top of search engines like Google. If you're reading this thinking, "that's not what the other agency told me" we may not be the best fit.

Content Optimization
Authentic, earned growth online takes time and relevant website content is critical for your online business.  We help produce articles, white papers, blogs, and website content that will get you found by search engines.

Pay Per Click Management (PPC)
Wanting to propel your business with Google Ads, Facebook, Pinterest, Instagram, etc. but unsure where to start? Guardian Owl Digital strategizes a plan to help best achieve your business goals through pay per click Ads.

Video & YouTube Production
Is video content more your speed? Our in house YouTube & Adobe certified team members can help you produce weekly content, execute on building a following, and even produce a scaled strategy for monetizing an audience.

Data & Website Analysis
A website audit is a complete analysis of all the factors that determine your site's visibility in search engines.  As Google gets more stringent with its policies for everything from obvious link spam to having too many characters in meta descriptions, getting a website audit has become a business necessity

Social Media Management
We curate your businesses weekly content, schedule and post on social media, and are able to put paid advertising dollars behind the trending posts.  Social Media has became an integral part of online business marketing strategy.
Why Guardian Owl? 
We excel at driving relevant traffic and qualified sales leads to your website. We do it by optimizing your content on and off your website for search engine readability and shopper user-ability. Whether it's through social search engines like Pinterest or search giants like Google, to deploy targeted digital strategy  using the best technology available. Our SEO strategies provide measurable results with robust real-time reporting to any organization looking for consistency and conversion tracking.
Client Case Study
We initiated work with Family Allergy & Asthma in March 2018.
With our tested SEO process, we grew their monthly traffic, impressions on Google, and new visitor traffic substantially in 6 months.
 154,000 visitor click thru's
4.4 million impressions of their website on Google
3.5 % organic click thru rate
Average overall website position of 23
Happy Guardian Owl Clients
Proven Results After 6 Months
Wicked Sheets came to Guardian Owl Digital with a well-designed and aesthetically pleasing e-commerce website.  The site had hit a roadblock with growing new organic traffic and was having trouble ranking for product relevant search terms.  Within 6 months, Wicked Sheets experienced a dramatic improvement. 
Sales increase from organic traffic
Growth in Monthly Organic Traffic
Sale increase from organic traffic
Increase in pages viewed per visitor
Guardian Owl Digital Client Testimonials
Our company has used Guardian Owl for our Google ad campaigns, social media and video production for 2 years now, and we couldn't be happier. A recent success story from our Google strategy….a customer in New Jersey googled "12 foot box truck chevy gmc" and our website with the right truck popped up in the first 3 results! He reached out, flew to Louisville, KY, and is a happy customer. I highly recommend Guardian Owl."
I met Jenna at a conference and she immediately impressed me as someone who could help my new company grow. Our business is 2300 miles away from Louisville.
Initially, almost all of our business has come via our Google ads and SEO. Month 5 sales grew 70% over month 4 and month 6 is even better. Guardian Owl Digital has been on top of our account all along and been a great partner to work with. I HIGHLY recommend them if you are in need of a digital marketing agency.
We have been working with Guardian Owl for about 6 months now and are very happy with their dedication to our business in developing content both video and social media, helping us grow our leads, and getting results! We plan on working with them for a very long time. They have a great team there of Jenna, Zack and Allison! You will be so happy you found them!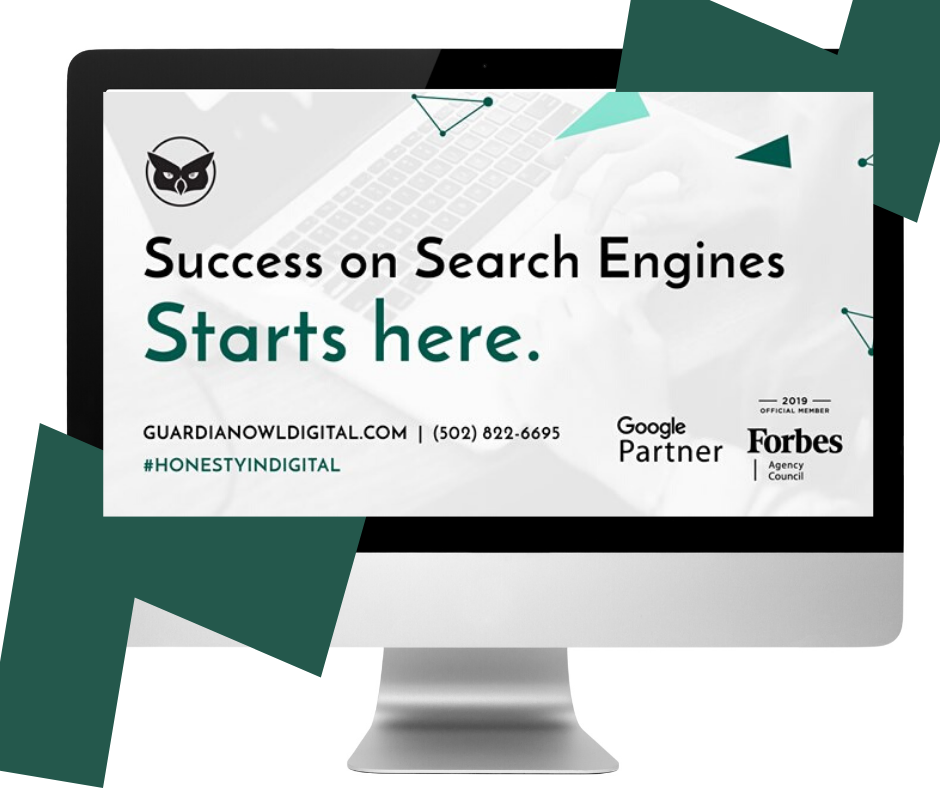 Get Breaking Search Engine News
Are You Wanting More Traffic From SEO?
 Are you tired of reading the same regurgitated information about search engines? 
Do you want to learn fresh, new search engine marketing updates and tactics your competition doesn't know about? 
Frequently Asked Questions on SEO
What does SEO stand for?
SEO stands for Search Engine Optimization and is the process of increasing the quantity & quality of your website traffic to generate more visitor engagement and conversions.
How long does SEO take?
SEO is a long process and there's no silver bullet to the top of search engines like Google. If any agency guarantees rankings, RUN! 
Why isn't my site traffic showing up in Google Anaytics?
There are a few questions you need to ask yourself when this happens:
Did you upload your sitemaps to your Google Analytics account?

Did you confirm that it was verified?

How long has it been since you uploaded? You should allow at least 48 hours for information to start showing up
If you can confidently confirm the three questions above, then something must be linked incorrectly. This would be a good time to ask a developer to go through your source code and triple check everything.
Why are reviews so important?
Online reviews are one of the first facets visitors see when searching a company online. Customers are more likely to trust your business if fellow consumers give an honest and positive opinion of who you are, what you do, and how well you do it. 91% of consumers read reviews before they are ready to make a purchase.
The most important directory for your reviews to be posted on is Google. This is because 93% of online interactions begin with a search engine… and 68% of which use Google to do so! And for your Google stars to start showing up you need to have about 2-3 reviews on Google. Other important directories are Facebook, Bing, and Yelp!
My web developer said he did SEO, isn't that enough?
They may have said this, but more likely they didn't actually do it. Many web developers can make amazing, user-friendly websites but when it comes to making it easy for search engines to find that awesome site, they often miss the mark.  You need someone who will do the research and optimize for the best search terms relative to your business. At Guardian Owl we go above and beyond by optimizing the following:
H1 and H2 Tags
Image Alt Attributes and titles
the body content of the page copy
page URLs
site speed
backlinks
off site citations
How much should I be investing in Digital Marketing?
The average small business spends 4-14% of their gross revenue on marketing. This percentage includes both traditional marketing and digital marketing. Both of these techniques are essential for any business' success. However, since technology is being integrated into almost every aspect of our daily livces, digital marketing spending should be in correlation with the growth of the digital world around. In fact, according to Small Business Trends, 70% of small businesses plan to increase digital marketing expenditure within the next year.
Guardian Owl Digital believes that every small business business should spend at least $750 per month on their digital marketing. This cost includes: directory & citation management, keyword & content software alignment and management, website auditing, link building software and management, local aggregator software of search engine data and management, and finally 6-10 hours of monthly work. There are services that cost less than $750 but we believe that you wouldn't receive the best care, transparency, or the true benefits from a digital marketing investment for less.
Why Guardian Owl Digital?
We believe we are here to help transform the digital visibility of businesses through honest communication, innovative search engine solutions, and unrivaled customer service.