Ecommerce SEO that Converts
Ecommerce SEO is often overlooked during the website development process.  
"Search engine optimization (SEO) is the practice of increasing the quantity and quality of traffic to your website through "organic" search engine results.
The goal of most Ecommerce clients is to generate more leads to your business website.
Instead of buying paid media ads, your site naturally appears high in search results when users search for a company like yours.
Why does SEO matter for Ecommerce?
The average web user only looks at the first 5 listings on a search engine results page (SERP). It gets worse.
Almost 95% of web users never venture past the first page of results. Listings on that first page enjoy a click-through rate (CTR) of nearly 75%. The next two pages get a combined CTR of about 6% — and it goes downhill from there!
SEO is our specialty here at Guardian Owl. Our process covers every aspect from keyword research, on-page
optimization and eCommerce SEO to backlinking, reputation management, and much more.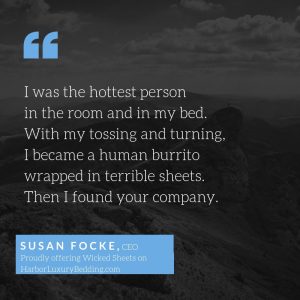 SEO Business Wicked Sheets Results
Wicked Sheets (wickedsheets.com) is a linen company founded by a former collegiate athlete. She created the company to combat night sweats, a condition from which she suffered and that affects 3% of the worldwide population (or 120 Million people!). The moisture wicking and cooling bed sheets are made from a material similar to popular athletic apparel brands such as Under Armor. The bed sheets and pillowcases are made of poly-nylon fibers specifically engineered to remain 2-3 degrees cooler to the touch, and wick away moisture.
The Problem..
Wicked Sheets came to Guardian Owl Digital with a well-designed and aesthetically pleasing e-commerce website in need of optimization to achieve the buzz it deserved. The site had hit a roadblock on organic traffic growth and was having trouble ranking for keywords related to actual products. A large portion of traffic came from searches related to causes of night sweats which landed users on one of the sites' many well-written blog posts. While this traffic was certainly a positive, it was not necessarily the quality visitors that drive sales growth and keep investors happy.
The Answer..
Wicked Sheet's business goals include increasing total sales by an average of $4,000 in revenue a month.
After our initial seo website audit and keyword research we determined the best course of action to help Wicked Sheets achieve its objectives utilizing digital marketing would be to focus our initial efforts on on-site SEO with the main goal of increasing quality organic traffic.
We added content to many pages which lacked copy and included keywords related to each individual page, making them more recognizable to Google. Altering titles and meta descriptions served the same function. Quality keywords made them more reputable and more likely to appear higher on Google rankings. We also optimized existing blog posts to ensure that the quality traffic they were bringing to the site only improved.
With these advancements, among other minor changes such as image compression and removing harmful backlinks, we expected to see an increase in organic traffic to the site as well as an upgrade to user experience. As these things increase so should sales numbers… so let's see what happened!
The SEO Results..
First 6 Month SEO Growth
• 139% increase in average MONTHLY SALES from organic traffic
• 104% growth in average monthly organic traffic
• 69% increase in average MONTHLY SALES from all traffic
• 68% growth in overall monthly traffic
• 16% Increase in Pages Per Visit • 3.2% Decrease in Bounce Rate
Free Consultation..
Let's talk! We want to learn about you. What are your goals? What have you tried? What's working? What isn't? What frustrates you? What's your current visibility online? Once we talk, we usually create a simple digital "to do" list that you can take back and make immediate changes right away to help your visibility.
SEO Audit
After we meet and see where your business' online visibility is today, we prepare and present a full Search Engine
Optimization Audit for you. This can include everything from social visibility, on-site SEO, off site SEO, and
paid search improvement areas, depending on your needs. We work with your web developer to execute the
recommendations, or we can handle it for you with credentials to ensure all recommendations are completed.
At Guardian Owl Digital, we perform a thorough website audit – a complete analysis of all the factors that
determine your site's visibility in search engines — before any paid advertising is started. As Google gets
more stringent with its policies for everything from obvious link spam to having too many characters in meta
descriptions, getting a website audit has become a business necessity. Our audit examines your entire website from an SEO perspective, focusing on 3 foundational elements:
SEO Website Health Audit
Assessing general site health including page titles, meta descriptions, meta keywords, link building, schema, URL
construct and content.
SEO Competitive Site Audit
Analyzing your site gaps in its vertical among your competitors to identify opportunities for growth.
Strategically analyzing how you're performing across social platforms relative to your competition. Taken as a whole, these audits offer you a holistic view of your website and opportunities to increase your traffic
and quality score online.
Your website is just as important as your brick and mortar location — maybe more important! And SEO is what keeps people showing up! An ongoing SEO campaign allows us to continually optimize your site as search engines make changes. It's the best way to move up in the rankings and stay there."