The search engine world continues to evolve despite quarantine and this week, it was with a new core algorithm update.
This update started to go live on Monday afternoon and Google stated it will "take up to 1 to 2 weeks to fully roll out."  The last update announced by Google was the second largest core update since Rank Brain, Bert, which rolled out in the fall of 2019. 
There's a lot of search engine chatter around the world as this update rocked websites and rankings. Mordy Oberstein from RankRanger described this update as an "absolute monster".  
Oberstein described the update stating, "This update appears to be far more uniform across the niches I looked at than your typical core update." 
Here are two charts he shared illustrating the May core update's impact on page one results across a number of industry verticals in RankRanger's data set.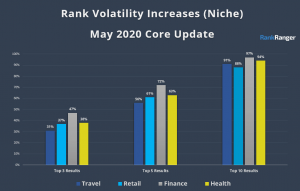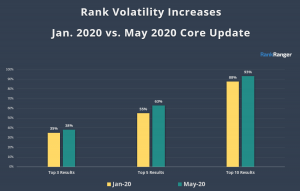 Our friends at SEMRush also shared some insight into the data that they were seeing. SEMRush described "the winners" of the update being local.com, yellowpages.com, superpages.com, businesswire.com, prnewswire.com, globenewswire.com, xe.com, mapquest.com, and gamekidgame.com. 
The losers were linkedin.com (note, this site had a big issue last week), manta.com, allmusic.com, idaily.com, nypost.com, discogs.com, afiavillage.com, eventbrite.com, peoplepill.com and owler.com.
SEMRush aggregator data highlighted the industries that were most impacted by the core update including travel, real estate, health, pets & animals, and people & society.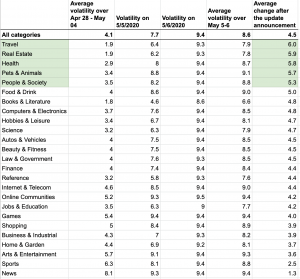 Some people claimed to have lost over 90% of their Google organic traffic, while others did well from this update and saw a surge in rankings.
The core update will continue to roll out so now is the time to pay attention to your Google Analytics and Google Search Console data to watch pages that are plummeting or benefiting from the update.
Need help? Contact us at Guardian Owl Digital for a complimentary website analysis.