Boo! Google Releases Bert, the Largest Algorithm Change in 5 Years
1 in every 10 search queries will be affected.
This big release drills down to this; Google being able to understand search queries, by humans, even better.
This is the biggest release since Google's Rank Brain released 5 years ago which is the core component of Google's machine learning algorithm.
Every time you conduct a search on Google Chrome, Google stores your search information and thereafter populate search results that are most relevant to you as a user.
The only way around Google not "learning" from your search query history is by clearing your browsing history or searching in "incognito mode".
This is also how the first page of search results on a mobile or desktop will vary from person to person.
Keep in mind that as a business owner, there is no immediate way to the top of all relevant searches unless you pay Google directly through Google Ads.
Investing in SEO helps you implement what's missing on your website in order for Google to populate you "naturally" with its machine learning more often. (ex;Rank Brain & Bert)
Why You Should Care
Roughly 10% of all searches will be affected by this change which is a big deal!
You will mostly notice this change within Featured Snippets, the automated generation of page titles and descriptions before the search results.
Here's an example from searchengineland.com of how the Bert Update is getting "smarter" at understanding human search queries.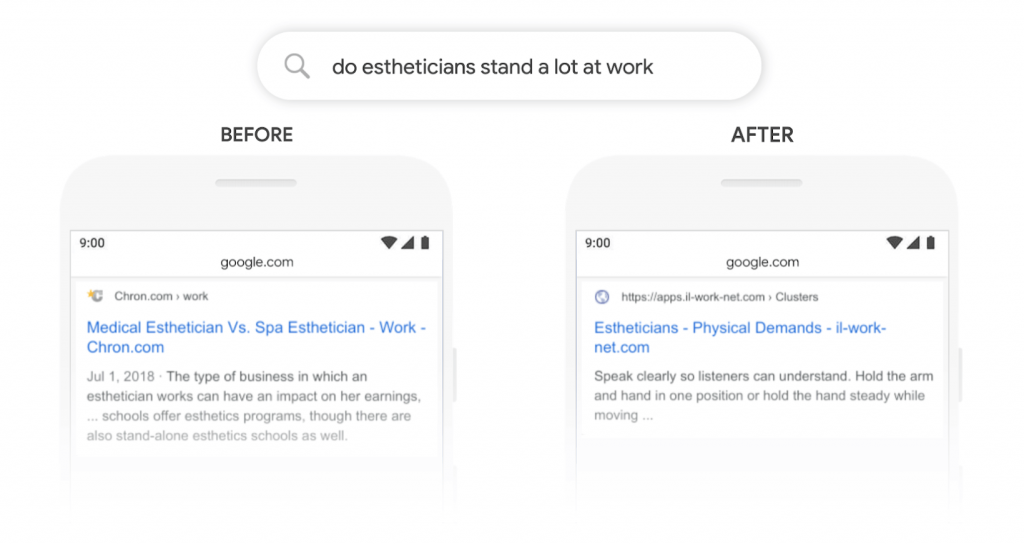 What You Should Do
There's not much an SEO agency can do to optimize for or after changes like this. Ultimately, if your a business owner, you need to take a hard look at your website and see if it's actually showing up for products and services that are relevant.
If you already have an seo agency, give them some grace if your rankings are affected by this update. Ultimately, it will shine a spotlight on opportunities of your site that need improvement.
As SEO experts, Guardian Owl Digital has years of experience in determining how best to position companies in search results that deliver quality traffic for business results. Contact us today to use our expertise to your advantage