When most people think about search engine optimization or SEO, they immediately think of the most popular search engines like Google, Bing, and Yahoo. However, if you're in the e-commerce industry, you know there's more out there than just Google. THINK AMAZON! It's one of the largest search engines in the world for products.
Most sellers know and understand that customers on Amazon have different search habits than on other search engines, but not all do. This can be problematic if you're relying solely on Google's keywords when selling on Amazon. Keywords directly affect your sales, and without the right ones, your chances of being seen are slim to none.
Now you're thinking, "How do I research keywords for Amazon?" Have no fear! Here are the three easiest ways to research your Amazon keywords (AND THEY'RE FREE!):
Amazon's Search Bar
It may sound crazy, but the actual search bar on Amazon's website is an excellent resource for identifying keywords that work best with your products. It's free, it's easy, and it's effective. Type in the first word or words you can think of to describe your product, and voilà! The Amazon Search Bar generates potential keywords below yours literally as you type them in. This is one simple way to do keyword research for your products.
Your Competition
Remember those potential keywords that Amazon generated for you? Those are also the other products that Amazon is suggesting to customers based off of their original search. To check out the competition, type your keyword into the search bar and click enter. This will show you who is already vying for the same keywords. In this example, look at the titles of each product to determine which attributes might also be important to your customers. Possibly, "handmade soap" or "essential oils soap" could be good for your keywords, but only if it applies to your products.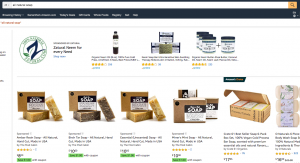 It's common practice to scope out the competition so don't be shy, but remember to borrow and not steal! You want to stand out from the competition; you don't want to be the competition. Use this as a model to move forward with your own keywords, and to keep an eye on their strategy.
Sonar is an effective way to continue your keyword research for Amazon. They pull all their keywords from real customer search queries on Amazon. THIS IS REAL DATA! The best part, they show you what long-tail keywords yield the highest search volume and they are designed to only focus on Amazon data. One drawback is that they update their database monthly. This means if you have a completely new product to Amazon, it might not show up right away.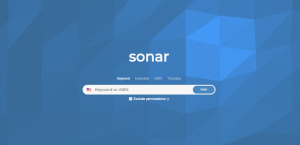 To use SONAR, simply enter the ASIN of your competitor's product and they will automatically recognize the Amazon product and give you a list of the keywords. Even better, they only give you a list of keywords that rank, which means the product listing has to be on the first-page of the search results.
Keywords are the backbone of any product on Amazon. Finding and using the proper keywords for your products is essential to attracting customers to your listings. Whether you're optimizing your titles or using keywords for advertising, your new motto moving forward on Amazon is: "keywords=conversion."
These options for upping your keyword game on Amazon are simple, easy, and free. Happy researching!