Demystifying Google Analytics in 2020
The very word 'analytics' sounds intimidating, especially to a small business owner who barely has the time to peruse Google, let alone use it to grow their own business.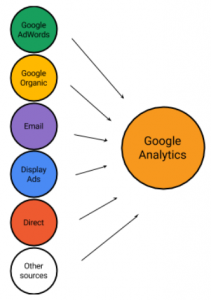 The benefit of having data at your fingertips is to help you decide if your ROI (return on investment) is paying off. But if you can't decipher what you're looking at on your Google Analytics (GA) dashboard, then you'll never be able to decide how to best spend your marketing dollars.
The Bounce
We can't cover every data point on the GA dashboard, so let's look at an unassuming one first: the bounce. A bounce is simply a visit that lasted one page. But that is not necessarily a bad thing. This data point doesn't measure whether they are a new visitor to your site or how long they spent on your site, even if they only viewed a single page. Perhaps the most important element of this data point is context. In other words, are visitors finding what they want on the page they land on, and therefore don't have a need to click through? If so, no hard feelings. Or is the content not engaging or educational enough to make them want to explore further? That shouldn't hurt your feelings either, but it should motivate you to work on your web design and content.
Traffic Sources
This data can provide many insights about your potential customers. Traffic sources, also referred to as traffic channels, tell you where your visitors originated from. Your GA dashboard highlights the four main sources of traffic: organic, direct, referral, and social.
Organic: a user typed a phrase or keywords into the search bar
Direct: a user that arrives on your website without an identifiable source
Referral: a user lands on your site via a referral link from another website
Social: a user comes to your site from clicking on a link via social media
These are only two examples of the myriad of data points on your GA dashboard. It's important to educate yourself on the data you are collecting so that you can put it to work for you. It would be immensely beneficial to find a firm that specializes in helping entrepreneurs make the most of their marketing efforts. Find a company that specializes in analyzing Google Analytics data so that they can help you increase your web traffic, and in turn, ROI.