Google Ads Optimization Score Now Available for Display
Google's Optimization score and recommendations within Google Ads platform help aid in advising campaign managers on prioritizing improvement opportunities.
The Optimization Score is an estimate by Google on how well your Google Ads account is set to perform. The score runs from 0% to 100%, with 100% meaning that your account can perform at its full potential.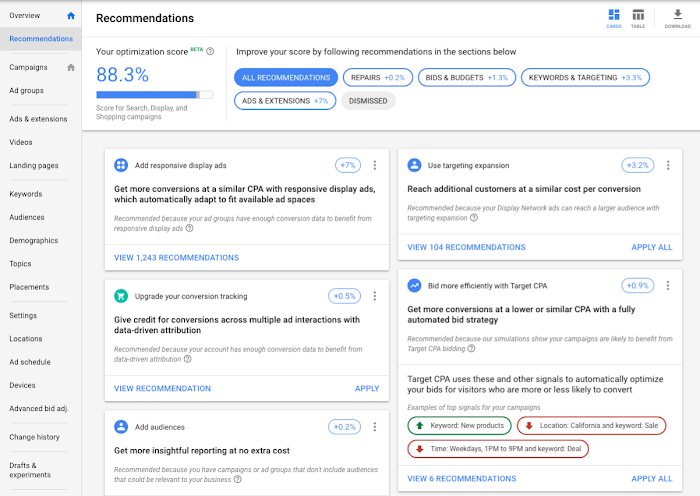 Internal Google data for search campaigns revealed that in 2019 advertisers who increased their account-level optimization score by 10 points saw a 10% increase in conversions, on average.
Beginning on December 4th, 2019 Google released a statement that the Optimization Score and Recommendations would also be available for Display and Shopping campaigns.
Google breaks down the optimization recommendations into four categories:
Ads & extensions
Bids & budgets
Keywords & targeting
Repairs
Keep in mind, that some changes regarding bids & budgets should be given some real thought.
After all, Google is an Ad Agency at the end of the day and may make recommendations against your business or clients best interest.
For instance, you may receive 5 points for increasing your daily budget or expanding your schedule when it doesn't make real sense for the business objective.
More Resources
Learn more about Google Optimization Scores
Google's Best Practices for Improving Your Optimization Score