Well, Google has done it again.
Inside the core April 2018 Google Algorithm update.
What's that you ask? They changed their mind about ranking factors and what the algorithm is going to be? AGAIN?!
Yes, again. And it won't be the last.
Inside The Core Google Algorithm Update
Truth be told, this isn't a big shock, in fact Google has admitted that they make changes daily. This is what Moz says: "Each year, Google changes its search algorithm around 500–600 times."
However, the core updates happen maybe 2 – 3 times per year. and when they do happen, these changes are felt, and cause quite a buzz.
This particular update started in March and seems to have settled in mid April. We've felt it with many of our clients here at Guardian Owl, which is why were working diligently to find a solution.
But is there one?
What is most interesting to us in all of these updates is that this time, more so than other times, Google is telling those who feel they have been impacted by the change to just sit tight. They claim your website isn't "wrong" so no need to fix it. Or however Google phrases these things.
Which is a lot easier said than done, right?
The rumor and early evidence shows that Google is doing some early testing with the mobile search algorithm as well as voice search.
Hey, Alexa….
Google hasn't been quiet about preparing the results for voice search. So when Alexa gives you an answer that you've asked for, it is thanks to this most recent update.
Where Did It Start?
Early in the algorithm change Google was really updating up what they displayed in search results.
For example, a search for "time" would only yield results for the time zone in which you were located, and no other results.
Something was missing. What if, when Googling "time", the intent was to see a result for Time Magazine. That option was no longer there with the initial change.
Since that initial change, Google has pivoted and adjusted the algorithm showing more results. Sites that had previously been moving up in rankings and garnering more organic traffic have been plummeting.
In the last week, we've noticed that the sites are recovering and bouncing back to their original ranking positions.
Google Has Begun Mobile First Indexing
In English, this means Google is favoring websites that are optimized for the best mobile experience.
For example, a site that automatically resizes across different devices with be giving more preference by Google than one that doesn't. This isn't a new expectation from Google. In fact in 2015 they set a hard deadline to bring your website to mobile responsive standards.
Check out this quote about what mobile first indexing means, directly from Google.
"Mobile-first indexing means that we'll use the mobile version of the page for indexing and ranking, to better help our — primarily mobile — users find what they're looking for."
This means if your site looks better on desktop than mobile, you might be in trouble. While we know most designers work on desktops to create your amazing website, it's more important now than ever before to make sure they are catering the design to mobile. This means users don't have to zoom in and out to read things, and navigation is easy for fingers to tap on.
So if your mobile website looks like something straight out of 2001, feel free to give us a call and we'll hook you up with someone who can fix that.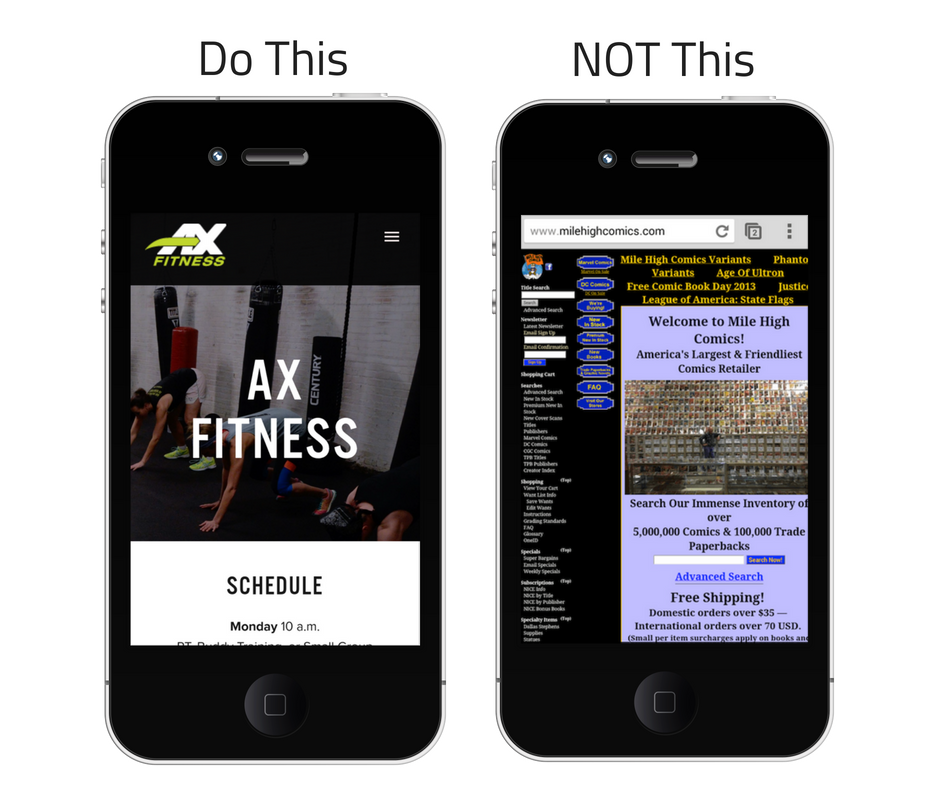 For an Added Bonus, Let's Talk About Meta Descriptions
Have you been wondering, why in the world the meta description that you took so much time crafting, isn't showing up on Google search?
Don't worry, you (likely) haven't done anything wrong, Google has just started using dynamic meta descriptions. In other words, Google is deciding what they think is the best description to show. Thats not to say your meta description should be planned out, just not to have your feelings hurt if Google displays something different.
Also, remember when they gave more characters late last year for meta descriptions? Well, they have taken that away as well. Another lesson to be learned by Google is that the only constant is that there is no constant.
What Can Be Done About These Changes?
While it is never easy to sit back and wait to see what will happen, this time, it appears that the guidance Google has given has been correct. So, at this point, no news is good news. Don't worry though, we have our finger on the pulse of what has been happening and will make sure to inform you of any new information that we come across.
If you feel like your website has been affected by this change, we'd love to chat with you about how Guardian Owl can be of help in turning things around!