FAQ
We all have questions
How do I set up Google Messaging?
Step 1: Log in to your Google My Business Account, and click "Manage My Business" to enter your business listing.
Step 2: From the main screen scroll until you reach the section labeled "Messaging". Then click on the blue button that says, "Turn on Messaging".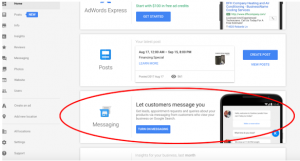 Step 3: Enter the phone number you can use to receive messages on. Then hit the small link on the bottom right. Be ready for a phone call and a confirmation code from Google.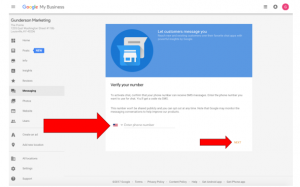 Step 4: Re-enter the confirmation code you just received from the phone call into the field shown. Next hit the small submit link on the bottom right.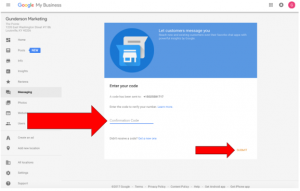 Step 5: Enter a "Welcome message" the visitors not using SMS will receive when they message this number! Then hit "SAVE" in the bottom right-hand corner.
What is the difference in Organic SEO and Local SEO?
Organic searches are the search results that are shown when there is a query about a topic that doesn't require a location. Examples of this are recipes, informational questions, and those adorable puppy memes we all know we search for.
Organic SEO is done to ensure your website contains relevant keywords and search terms. This will increase your chances of showing up on the first page of Google's search results which is so important because you may not know but, the 1st page of Google garners 92% of all traffic from average searches.
Local searches are the results that are shown when there is a query that has a geographical component. Examples of these are "bike shops in Louisville, Kentucky" or "best sushi in Laguna Beach, California".
Local SEO is completed to draw more local business to your store or website. The most important information and also the bare minimum for Local SEO is to make sure your name, address, and phone numbers are consistent across all directories. If a prospective buyer is trying to locate your store or call in but your information is incorrect or nonexistent, then you have most likely lost their business. 50% of searchers visit businesses within 24 hours of a local search, so you want to be high on their search results with all the correct information to back it up.
How many online reviews do I need?
Online reviews are one of the first things visitors see when searching a company online. Customers are more likely to trust your business if fellow consumers give an honest and positive opinion of who you are, what you do, and how well you do it. 91% of consumers read reviews before they are ready to make a purchase.
The most important directory for your reviews to be posted on is Google. This is because 93% of online interactions begin with a search engine… and 68% of which use Google to do so! And for your Google stars to start showing up you need to have about 2-3 reviews on Google. Other important directories are Facebook, Bing, and Yelp!
Gaining consumers' trust is what all businesses should be striving towards. This is how you gain loyal consumers who help your business spread by word of mouth and online reviews. 2-3 reviews gains the trust of 28% consumers, while earning 4-6 reviews makes that percentage jump to 36%. As you grow, the number of reviews you have should grow as well!
How much should I be spending on Digital Marketing?
The average small business spends 4-14% of their gross revenue on marketing. This percentage includes both traditional marketing and digital marketing. Both of these techniques are essential for any business' success. However, since technology is being integrated into almost every aspect of our daily livces, digital marketing spending should be in correlation with the growth of the digital world around. In fact, according to Small Business Trends, 70% of small businesses plan to increase digital marketing expenditure within the next year.
Guardian Owl Digital believes that every small business business should spend at least $750 per month on their digital marketing. This cost includes: directory & citation management, keyword & content software alignment and management, website auditing, link building software and management, local aggregator software of search engine data and management, and finally 6-10 hours of monthly work. There are services that cost less than $750 but we believe that you wouldn't receive the best care, transparency, or the true benefits from a digital marketing investment for less.
There are links to my site now. Shouldn't that help?
The more links you have connecting to your website the better, but quantity doesn't have much effect if there is no quality in the websites that are linking to you. If the websites that link to you don't have much traffic at all then their link is not likely to generate a great deal of traffic on your website either.
Why isn't my site information showing up on Google Analytics?
There are a few questions you need to ask yourself when this happens:
Did you upload your sitemaps to your Google Analytics account?
Did you confirm that it was verified?
How long has it been since you uploaded? You should allow at least 48 hours for information to start showing up
If you can confidently confirm the three questions above, then something must be programmed incorrectly. This would be a good time to ask a developer to go through your source code and triple check everything.
My web developer said he did SEO. Isn't that enough?
They may have said this, but more likely they didn't actually do it.. Many web developers can make amazing, user-friendly websites. However, when it comes to making it easy for search engines to find that awesome site, web developers miss the mark. Most web developers will add page titles and meta descriptions, which is a great on-site SEO practice, but most forgo detailed keyword research to make sure you get the most bang for your SEO buck. You need someone who will do the research and optimize for the best keywords. You need a partner who knows how to go beyond Page Titles and Meta Descriptions. Here at Guardian Owl we go above and beyond by optimizing the following:
H1 and H2 Tags
Image Alt Attributes and titles
the body content of the page copy
page URLs
site speed
backlinks
off site citations
and more!
Is SEO a one time thing?
SEO takes effort and commitment. There is no quick fix.
How do I add Guardian Owl as a Facebook admin?
Step 1) Login to the Business Facebook page Step 2) Click "settings" at the top right side of the page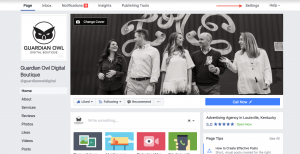 Step 3) Click "page roles"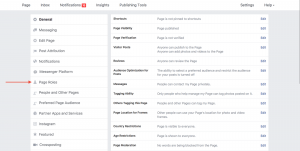 Step 4) Type in our company Facebook admin name "Ollie Guardians" and give the role "admin" to give us access.
What are off site directory listings? Are they important?
Off-site directory listings are websites that display your business information such as Facebook, Google, Yellow Pages, Yelp, and many more. Google looks at these listings as a portion of your creditability as a business. Google gives more credibility to consistent and accurate listings, which results in higher page rank after a search.
How long does it take to see the results/changes?
Due to the vast number of off-site listings and their time frame for making internal updates, directory updates can take anywhere from 3 to 6 weeks to populate. We continue to monitor all listings to ensure all changes occur within a timely manner.